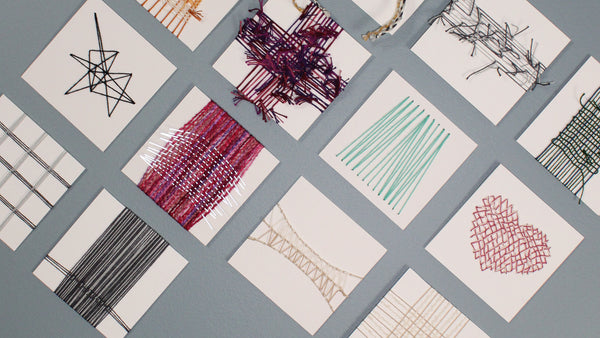 100 Days of Thrums
This year I decided to participate in #the100dayproject. If you haven't seen it before, its a simple free global art project that anyone can participate in, merely by doing a create art project every day for 100 days. It's a great practice that can get your creativity flowing and reminds us all that the point of art is to enjoy making it, nothing more. 
I decided to combine my 100 day project with a goal to only use waste yarn that I would otherwise have thrown away. A certain amount of yarn is always wasted in weaving because of the way you set up a loom and tie the warp in. There are a lot of tricks all weavers use to minimize this waste and get every inch they can, but its impossible to reduce that waste to zero. These left over ties are called "thrums" and can be anywhere from 6" long to 20" long on my looms. I just can't bear to throw yarn away, so I've been saving my thrums from the last several years and sorting them by fiber type. (I have a someday dream of making paper from the shredded scraps, but I haven't gotten there yet!) 
This is my bag of cotton thrums, it weighs about 10lbs! 
So, once a day for the last few weeks I've been creating mini-weavings only using yarn from this bag (or one of my other, smaller bags of different fiber thrums.) I've absolutely loved what this project encourages me to do and to think and to consider my art. Usually weaving takes a lot of planning and preparation to begin a project you're pretty confident will succeed. But for these small pieces I can be completely spontaneous and just see what happens. I've given myself no requirements other than the only yarn I can use must come from one of these scrap bags, and the piece must fit on a 4"x4" card. Each day, new ideas come to me. Some are fast and simple, others are, to be honest, overly complicated. Sometimes I use only short pieces, sometimes I knot together lots of pieces to make longer strands. Sometimes I hide the knots, sometimes I let them show, sometimes I make them a feature. Sometimes I punch holes in the cards, sometimes I wrap them. I've noticed certain themes that will run for a few days to create mini series, or sometimes I'll jump around playing with new inspiration. 
These represent the first 14 tiny weavings I created. It was about on day 12 that I realized eventually I would have 100 of these cards, and my house is already quite full... Storing them in a box seemed to defeat the point, but throwing them out would break my heart. But who else would even want such tiny random pieces? I decided, well, why not find out?
One of the things I struggle with most in running an artistic small business is that I have to charge a lot for my work to make it livable. I wouldn't be able to afford my own work - many people I know and love can't afford my work. I've always wanted to offer pieces in a pay what you can style, and I think this project is a perfect way to do that. If you love my work but have never been able to afford a piece, now's your chance! You CAN afford any of these pieces, I promise that. They're tiny, and they're fast, but each of them is a tiny piece of me every day. Each piece is 4"x4" and mounted on archive mat board. They are ready to frame, or lean on a shelf, or pin up anywhere that inspires you, or slip them in an envelope and give them to a friend!
Here's how it works:
You can follow my #100daysofthrums tag on instagram for frequent updates, or check back on this blog post where I'll try to update the available pieces regularly.

If you see a piece you want to own, send me a message with the day # you'd like to buy, and what you want to pay for it. If you want to buy it for $0, you can! I will mail it to you for free, because I love you for wanting my work. If you want to cover materials and shipping, it's around $2. If you want to buy one for yourself and cover the materials for another person who might not be able to afford anything, offer me $5. If you want to support me just because you can, offer me $15, for the average hour I spent on each one. I mean it, PAY WHAT YOU WANT. Pay what you CAN! Or better yet, donate the money you would spend on one of these cards to an organization of your choice and I'll send you the art too! I am SERIOUS! Take me up on this!

I'll get your shipping address, and you can venmo me @walshka (or we can arrange other details.) Then this new tiny artwork is ALL YOURS!
Current Pieces
Day 1: Friendship
Day 2: sunshine on a rainy day, how we got here, knot done yet (SOLD)
Day 3: Barbed wire (SOLD)
Day 4: Forest threads
Day 5: Sunrise (SOLD)
Day 6: confetti (SOLD)
Day 7: Mountains (SOLD)
Day 8: love self, love planet, love imperfection, love love. (SOLD)
Day 9: Ink blot
Day 10: Light (SOLD)
Day 11: Bridge (SOLD)
Day 12: Home (SOLD) 
Day 13: Grid
Day 14: Endless rain rain rain (SOLD)
Day 15: Soft night (SOLD)
Day 16: Pom
Day 17: Dogwood (SOLD)
Day 18: Sail away (SOLD)
Day 19: Succulent (SOLD)
Day 20: Daffodils (SOLD)
Day 21: Thunder (SOLD)
Day 22: Hemp (SOLD)
Day 23: Diagonal
Day 24: Silver & Gold
Day 25: Lonely Mountain