Classes & Workshops
As things are beginning to look up, I still want to take things slowly and safely. All classes will have a student limit of 6 people, and students must be vaccinated and remained masked during the entirety of the class. If you have any questions about how to attend a class, or if you'd like to schedule a weaving or sewing class please don't hesitate to contact me! Be sure to sign up for my newsletter to get updates about all future classes.

Begginning Rigid Heddle Weaving: Kitchen Towels
Triangle Fiber Arts Center,
Durham NC
April 16-17 9am - 5p
Registration is OPEN
Over two days, students will learn how to weave their very own kitchen towels on a rigid heddle loom, choose appropriate yarns, and warp their loom. After designing their own kitchen towels, students will be guided in tips and tricks to make rigid heddle weaving successful, as well as a few hand manipulation techniques to add interest and variety to rigid heddle weaving.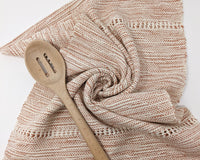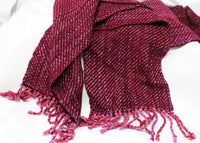 Beginning Weaving - Weekend Scarf
TWO CLASSES OPEN
Triangle Fiber Arts Center, Durham NC
June 3-5: Registration opens April 11
August 19 - 21: Registration opens June 20
Over one weekend students will learn how to weave their very own scarf out of rayon bouclé yarn. They will learn how to plan a weaving project, and read a simple weaving draft. After designing their own scarf and measuring the yarn for it, students will be taught how to warp a loom using the "front to back" method. After weaving their scarf, they will learn a variety of finishing techniques including hemstitching, knotting and twisting fringe.  No previous experience is necessary, and all materials are provided. 
Beginning Sewing with Handwovens
Saturday, July 16, 2022, 9 am - 3 pm
Triangle Fiber Arts Center, Durham NC
In this one-day class students will learn some basic tips and tricks for sewing with handwoven fabric! They will construct a zippered pouch perfect for use as a pencil carrier or make up bag out of their very own handwoven fabric. Students will learn the basics of how to use a sewing machine, how to measure fabric and apply interfacing, how to insert a lining and install a zipper. No previous sewing experience is necessary, but students must bring their own sewing machine and zipper foot.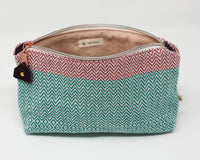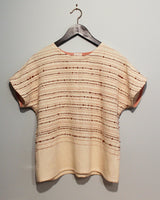 Garment Sewing with Handwovens - Wiksten Shift
Class Dates: TBD
In this 2.5 day class students will learn how to sew a simple shirt or dress from the Wiksten Shift pattern. Students will learn how to measure their own bodies and select the correct pattern size. They will learn how to read pattern markings, how to identify fabric grain, and cut pattern pieces out of their fabric. We will cover some tips and tricks of sewing with handwovens and learn several methods of protecting seams. Students will also learn how to make their own bias tape binding! At the end of the class, students should be able to wear and show off their very own handwoven and hand sewn garment. Some previous sewing experience is recommended for this class, you must be able to provide your own sewing machine and be familiar with its use.