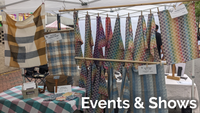 Where to find me this Fall!
I just posted my list of events and shows where you can find me to shop in person this fall. I confess, I'm a bit of a procrastinator, and a lot of what I make never gets posted online because taking photos and making listings takes a LOT of work. The easiest way to see all of my work is to come find me in person! Click below to see where I'll be when.
Event List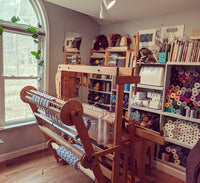 Handwoven with love
The art of weaving is considered one of the oldest technologies in the world, and the fundamentals have changed very little in that time. Each item I sell is constructed entirely by me, and begins its journey as loose thread eventually transformed into whole cloth. Every strand of yarn is carefully threaded into the loom, and every inch of fabric is created by building one thread on the next, interweaving them to create intricate patterns. I love weaving precisely because of how tactile it is, and how much time I get to spend touching the yarn and enjoying the colors. Because of this, every textile I weave is a pleasure to touch and look at, and is a unique creation that represents hours of a labor of love, years of study and practice, and centuries of culture and technology.
About Kelly