Studio Visit
Come say hi!
I'm currently working out of an artist collective studio called Liberty Arts in Durham, NC. If you'd like to come see any of my work in person or see a demonstration of my work, please absolutely come on by! I adore talking about textiles and weaving and am always happy to explain my process, show off my looms, or just generally chat art.

I'm not at the studio every day, but am usually available on Tuesdays, Thursdays and Saturdays, so just drop me a line and we can find a good time to meet up!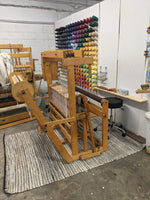 Schedule A Studio Tour
I'm usually available most Tuesdays, Thursdays and Saturdays, but can make most any other days work. Please suggest a couple of dates and times that'd work for you and we'll take it from there!