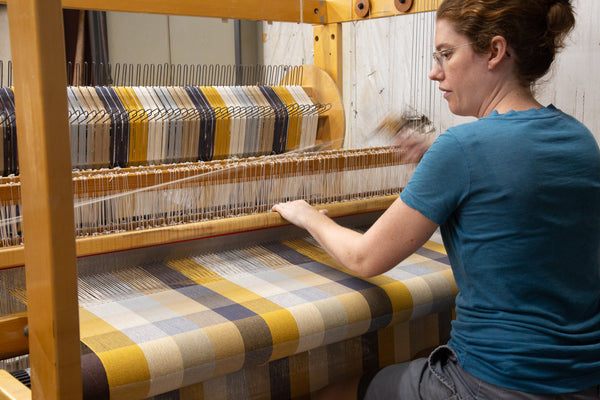 Pamut Apparel Collaboration
I was first approached by Kat of Pamut Apparel back in the early days of February 2020. We'd never met in person, but we had some mutual friends in the NC fiber arts crowd, she was looking to explore handwoven fabric for her clothing line, and I'd been putting out vibes for a garment company to partner with. 
Kat was exactly the person I was hoping to work with, her company has sustainability at its core, and she is creative and fun to collaborate with. Even through a pandemic she stayed positive and connected, and we had a ton of fun designing fabrics that would work for her fall line. 
It was fun watching our designs and ideas evolve over the course of the year. I first wove up four sample yards exploring the interactions of several colors we were interested in, two each of different fibers (tencel and cotton) and two different weave structures (twill and plain weave). 
As you can see, we had some sort of stripe in mind from the very beginning, but I'd actually forgotten until I looked up this old photo that we started with an idea of rich reds and blues. Picking which colors to move forward with was definitely one of the hardest choices to make. I think my favorite moment of the project was when Kat asked her instagram followers which sample square they liked best and several responded that they liked them all together! That was when we decided that doing a check would be a lot of fun. We eventually decided on three fabrics - a pale blue gray solid weave, a charcoal stripe, and a check design.
This photo is of the first full sample yards I wove up for the stripe fabric, and was about to begin the check. Kat was amazing the whole way through, even when the company I order my yarn from took the whole month of July off, and then I broke a part on my loom and had to wait for a replacement to arrive.
And actually, the broken loom turned out to be a blessing in disguise as it led me to partner up with Native Spun and use one of their looms to weave fabric a full 54"wide. 
I couldn't be more pleased and excited with how Kat's fall release of the handwoven sweaters went. Just look at how amazing they turned out!
Working on this project was such an inspiration all through the year, and was a huge growth moment for myself and my business. It gave me the confidence to start thinking about offering handwoven yardage on the site here. And I can't see what Kat will come up with for next year!