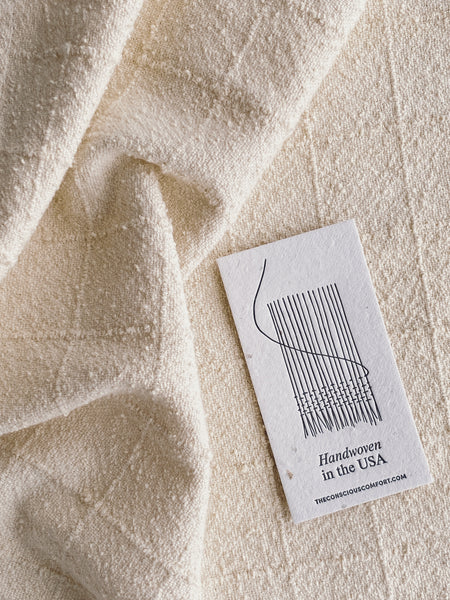 The Conscious Comfort Collaboration
The best things take time. 
In Fall of 2020 I was contacted by the lovely Veronica, who is starting a new business for consciously sourced sustainable home goods. She reached out because she was looking for unique organic textiles, entirely sourced from within the US. I instantly fell in love with her idea and her mission and we set about trying to design fabrics for her to use. 
We researched several yarn options and eventually settled on some gorgeous cotton grown and spun in Texas. One of the things she expressed to me frequently over our search was her love of texture, and I was so excited to find an organic cotton boucle yarn. I had so much fun coming up with different constructions using the fibers we found in different ways, and sent her loom photos all along the way.
These mini samples show my five favorite constructions and fiber combinations we played with. 
Veronica picked her two favorites (as well as the simplest plain weave construction) and I sent her a full yard of each to get a good feel for their texture and drape. I was simply stunned by her gorgeous photography.
In the end, Veronica settled on the grid fabric as the most unique. And though it took nearly two years, this summer she was able to release her Handwoven Collection, featuring me andanother artist.
Veronica was kind enough to share with me the incredible video she had made from footage I sent her of me weaving the fabric (video editing by Madeleine Keating). I hope it gives you a sense of what goes into every single piece I make.